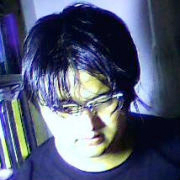 Photo: © http://blog.sina.com.cn/gadaicairang
Gade Tsering དགའ་བདེ་ཚེ་རིང་།
Gade Tsering is a prolific poet from Amdo, who writes in Tibetan and Chinese. He is very popular amongst Tibetan netizens and has previously also received official recognition for his work, including "National Top 10 Minority Poet" and "2006 Northwest Outstanding Poet". Gade Tsering"s Chinese language blog (http://blog.sina.com.cn/gadaicairang) is one of the most read, not only among Tibetan readers, but it is also popular among Chinese readers.

[English]
我是藏人 (I am Tibetan)
之所以我是藏人,每每
觐见大自然的胸怀:雪山、草原、蓝天
湖泊时,忍不住将浮肿的身子
投入其怀抱。因为它从不拒绝
爱着的一切。
你知道吗?
"我的同胞曾被囚禁在这里
四水六岗卫教军曾溃败
在这里。
桑烟缭绕
海螺鸣响
房顶插满五色经幡的地方
这里是我的家——高原的胸膛
西藏!"
——题记
0,
清晨,给佛供一碗净水
我不再要求更多:西藏的存在
使我的一生得以完整
不再害怕失去。
在这里,与你相遇
与万物相遇。感受到了爱
感受到了被爱。
之所以我是藏人,我一直坚信
历史,一直坚信
神灵的存在。
1,
"我听见了无数种族的语言
在我的母语里哭:
铁匠/农夫/猎人
妓女/商人/小贩
……
我已不屑于眼前的景象
虽然有事没事儿爱唱《翻身农奴把歌唱》
但我能分辨清楚
说话带有女人腔的男人必定是个
山东汉
穿着难看的摄影背心的是个
四川妞。
此刻,我正抚摸残损的佛像
怎么也想象不出
这些人在一个月后
一边比划着一边惊诧地说:
"藏人既然是有信仰的
喇嘛怎么会杀人?"
我想:一切都有理由让人畏惧
夜遮盖大地
我们还去往哪里?
2,
因为我是藏人,我有
许多回忆:
"猕猴和罗刹女
与自然和睦相处的天性
以及,图博王朝
格萨尔的传唱"
因为我是藏人,
遇上了悲伤的生活。
因为我是藏人,
得到了足够的安慰。
然而在这个专制的冬天
我写下了这首诗!
3,
"她的眼睛和手掌的纹路都是西藏的
她的名字,西藏的
她的梦和悲伤,西藏的
她的信仰,她的双脚和身体,西藏的
她的语言和她的沉默,西藏的
她的声音,西藏的
她的出生和死亡,西藏的"①
4,
做梦见到了父母
这是一件多么幸福的事情
我深信,这一刻
我并不伤心
起床去点了一盏酥油灯
这是一个雪天的晚上
我决定退下手腕上的佛珠
念经,祈祷。
此时的夜,真实,
厚重。
5,
对于我来说
天葬并不可怕
对于你来说
天葬是愚昧的
因为我是个藏人
了解自己。
6,
这一次拒绝是
与你的身份有关
我说我每天附带一把藏刀,并不是
为了杀生。
你总猜测世界上有这样一个地方
"说藏语,因为是藏人。
过洛萨,因为是藏人。"
我就这样用母语回答你
"阴阳两隔。
我说我带刀,原因在于清醒地认识自己
恐吓自己。"
7,
"他们来了,在星期六中午
他们来了,乘着形似装甲车似的公共汽车
他们来了,带着轰响的锯子,工具,还有绳索
他们来了,那七位劳工
他们来了,那七个鬼魅
他们来了,醉醺醺地,像抱着鲜花似的抱着啤酒瓶
他们来了,穿着迷彩服一般的绿衣
满脸通红
皮鞋乌黑
他们来了……"②
8,
我是藏人,
要恭顺地膜拜。
我是藏人,
要参与自己的所有宗教节日。
我是信佛的
不能夺走这一个属于自己的
洗礼。
9,
"走多远,我会抵达西藏?
走多远,我会见到父母?
走多远,我会穿上藏装?
赤身裸体
我们将奔向拉萨
以溃烂的双脚
证明我们伤痕累累的身心是
属于藏人的!
花园寂静
拉萨化为一只鹰鹫在飞
雷鸣近了
雨就来了!"
10,
之所以是藏人,跟其他民族不一样
我们遭受歧视、监禁、折磨、死亡,显然变本加厉。
之所以是藏人,我不再恐惧。
没有胆怯,依旧信佛,习惯地
在尊者像前点燃无数供灯
为死去的同胞。
说着母语,深信,这一刻
我是安静的。也是幸福的!
之所以是藏人,我时常打听
除了西藏,哪里还有一块富有诗意的流亡地呢?
注释:
①仿阿拉伯诗人默罕默德·达维什诗作《来自巴勒斯坦的情人》。
②摘自伊拉克诗人萨迪·优素福诗作《星期六早晨》。
"I am Tibetan"
Because I'm Tibetan, every time I salute Mother Nature in awe:
The snow-covered mountains, the grasslands, the azure sky and the lakes,
I cannot help but throw my bloated body into her bosom. Because I know
She never rejects those who she loves.
Did you know?
"It was here my fellows had been imprisoned;
It was here the Defender of Faith of Chushi Gangdruk had been defeated.
It is here the smoke of the burning branches of mulberry trees swirl,
And the sound of spiral shell horns can be heard,
The roofs are flanked with coloured Sutra banners;
It is here, the chest of the plateau, my home,
Tibet!"
—Preface
0,
In the early morning I offer a bowl of purified water to Buddha,
I will no longer ask for more: the existence of Tibet,
Which has completed my life and repelled my fear of loss.
It is here I have encountered you
As well as all living things.
It is here I have experienced the feeling of love,
As well as the feeling of being loved.
Because I am a Tibetan,
I always firmly believe in history,
Always firmly believe
In the existence of sacred spirit.
1,
I hear different languages of different groups. In my mother tongue, crying;
Those from blacksmiths, farmers, hunters,
From prostitutes, businessmen, vendors
I already disdain the scenes I'm seeing;
Although sometimes I still sing the Song of Emancipated Serfs,
I can recognize a guy with the sissy tone in his dialect must be a Shandong guy,
I can recognize a chick in the ugly photographer's vest is a Sichuan chick.
At this moment, I'm touching the damaged Buddha,
Wondering how it should be possible
That a month later all these people would gesture and speak in astonishment:
"Since Tibetans have religious beliefs, how can a Lama kill people?"
I think everything is dreadful for a reason.
Where else could we head for,
If the whole land is darkened by night?
2,
Because I'm a Tibetan, I have
A lot of memories:
"The monkey and the demoness
With the nature of getting along with Mother Nature in harmony,
And, the Tibet Empire and the Tibetan song of Gesar orally passed from generation to generation.
Because I'm a Tibetan,
I have been suffering from a life in misery;
Because I'm a Tibetan,
I have obtained enough comfort.
But it is in this autocratic winter
I composed this poem!
3,
"Her eyes and the wrinkles on her palms are Tibetan,
Her name, Tibetan,
Her dreams and sorrows, Tibetan,
Her belief, her legs and body, Tibetan,
Her language and her silence, Tibetan,
Her voice, Tibetan,
Her birth and death, Tibetan" [1]
4,
How wonderful it is
To dream of parents!
I deeply believe that at this moment
I'm no longer in sorrow.
In this snowy night,
I get up to light a butter lamp.
I decide to take the prayer beads off my waist
And pray to Buddha.
At this moment, the night seems so real and profound.
5,
Celestial burial is
Not frightening at all,
In my eyes;
Benighted,
In your eyes.
Because I'm a Tibetan,
I understand myself.
6,
This time the rejection is
Related to your identity.
I said,
The Tibetan knife I carry with me every day is
Not for killing other lives.
You always wonder if in this world there ever exists a place
"Speak Tibetan because you are a Tibetan,
Celebrate Losar because you are a Tibetan."
In my mother tongue I answered,
"Life and death are separated from each other.
I said I carry a knife with me
Because I soberly know who I am
And I want to intimidate myself.
7,
There they came on a Saturday afternoon.
There they came, in buses appearing as armoured cars.
There they came, with buzzing saws, ropes and other equipment.
There they came, the seven workers.
There they came, the seven devils.
There they came, holding beer bottles like flowers, drunk.
There they came, in camouflaged green outfits.
With bright red faces,
in black leather shoes,
There they came… [2]
8,
I am Tibetan,
I want to worship my gods in awe.
I am Tibetan,
I want to partake in all my religious festivals.
I am a Buddhist and I
Won't allow anyone to take away this
baptism of mine.
9,
How far must I go to arrive in the land of Tibet?
How far must I go to meet my parents?
How far must I go to wear Tibetan clothes?
Naked,
We are heading for Lhasa.
The festered feet as the proof,
That our bruised bodies and hearts are
Tibetan!
The garden is silent;
In the form of an eagle
Lhasa is flying.
Drawing near the thunder,
Comes soon the rain!
10,
Because we are Tibetan,
We are treated differently from other minorities:
Enduring aggravating discrimination, imprisonment, torture and death.
Because I am Tibetan,
I am no longer in fear of anything.
Still a courageous Buddhist,
I lit many lights before our honoured Gods
In memory of my dead brethren
Just as usual.
Speaking in my mother tongue, I deeply believe that
At this moment, I feel peaceful and blessed!
Because I am Tibetan, I often ask
Apart from in Tibet, where else could we find a piece of land of the exiled
with such rich poetic sentiments?
February 10, 2010.
Notes:
[1] An imitation of the poem "The Lover from Palestine" by the Arabian poet Mohamed Darwish
[2] An excerpt from "Saturday Morning" by the Iraqi poet Yusuf
[Translation: High Peaks Pure Earth – www.highpeakspureearth.com]
[Top]